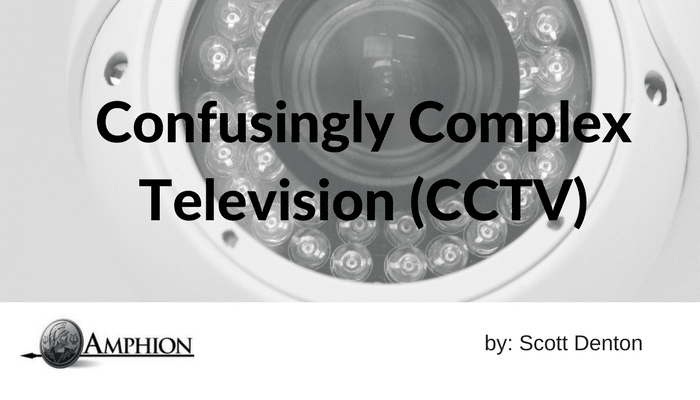 The Muddy Waters of Technology
CCTV systems are like Pin Pads. Every retailer has them, but no one really knows how they work. This is because the technology driving vital members of the physical security arsenal, such as CCTV, changes as frequently as the weather. Just when Loss Prevention professionals think they have it all figured out, compression algorithms, bitrates, spatial and temporal compression rates, ISDN transmitters, and a whole host other of things with meaningless-sounding terminology – change for the better. So where does that leave LP professionals? Confused, and understandably so.
Partnering Pitfalls
Because of the confusion created by the rapid advancements of CCTV technology, the most successful LP executives take proactive measures to avoid making major mistakes associated with the purchase and installation of the right CCTV systems. LP professionals almost always seek out a reputable solutions provider with whom to partner, especially on projects so vital to the success of their asset protection program. But if the LP professional isn't careful, a major financial disaster may be looming.
Imagine an LP professional finally getting capital approval to either upgrade their CCTV systems or implement an entire new CCTV initiative, but the solutions provider he or she selects has less knowledge and experience than that which was originally portrayed. This is a recipe for disaster and unfortunately, it is all too common. Despite what some may believe, all CCTV systems are not created equal. A skilled, knowledgeable solutions provider is needed to ensure the CCTV system that the LP executive thinks he or she needs will in fact accomplish the desired results. Another reason to partner with a reputable solutions expert is to be certain the LP executive doesn't purchase more technology that what is needed, thereby wasting that capital he or she worked so hard to get.
For example, an LP executive may find themselves purchasing a CCTV system with all the bells and whistles only to find out later they system was equipped with people-counting software and analytics; something the LP executive's organization just wasn't interested in.
Situations like this are very common, especially when the selected solutions provider fails to truly listen to the executive's needs.
Selecting the Right Partner
Selecting the right solutions provider seems easy. If an LP executive is new to their role, or perhaps isn't happy with the solutions providers they've worked with in the past, they quickly find themselves bombarded with marketing paraphernalia from myriad of companies all claiming to be the best at what they do. In most cases, each of these solutions providers may actually believe they are in fact that best provider of the technology being sought. So what should an LP professional do in order to quickly identify those providers who may not be a good fit?
According to David George, former vice president of asset protection for Harris Teeter Supermarkets and Dollar General, "One of the most important tasks for an LP executive is to ask each prospective solutions provider for a list of companies and contacts for whom they have provided, installed and serviced the exact type of CCTV system being considered for purchase." The reason this is important, he said, is because solutions providers may only provide a list of companies and contacts of those for whom they have installed basic CCTV systems over the years, but that does not necessarily mean the solutions provider is skilled in installing the newest CCTV technology.
"There is a big difference between being on the cutting edge and being on the bleeding edge," George said. "It is rarely a good idea for LP executives to put themselves in a position where they become the testing lab for an inexperienced solutions provider. When it comes to technology, there are no mulligans. Mistakes are often very costly."
Trust, but Verify
When asked what the next steps should be before selecting a solutions provider, George gave an interesting response.
"When preparing to launch a full-scale CCTV initiative, it is not enough to simply call the references provided by the prospective solutions providers and ask all the right questions. When hard-to-get capital is at stake, it is paramount that the LP professional go visit a couple of the locations in which the exact type of CCTV system was installed."
When asked to elaborate, George explained. "The one thing a phone call can never do is help an LP executive gauge another company's culture. When I first took the leadership role at Dollar General, I realized that changes needed to be made to the CCTV strategy. I contacted a few references provided by a prospective solutions provider and received glowing feedback. But when I visited several of the retailers' locations, I saw camera wires exposed, ceiling tiles not cut properly to accommodate the new cameras, and a massive ball of cabling stuffed behind the headend equipment that resembled a tangled ball of yarn. The cables for the cameras were not even labeled at the headend…a common issue that always leads to wasted labor during future service calls."
"It was clear to me at that moment that although this particular retailers' CCTV systems may function to the level of satisfaction they were willing to accept, the installation concerns were undoubtedly issues that neither I nor the company culture in which I was a part of would find acceptable."
Reputation is Everything
"Reputation is everything" is a phrase all of us have heard from our parents or role models since we were children. Arguably, nothing could be more factual. Whenever an LP professional is doing their research regarding a prospective solutions provider, much of what they are doing is learning about the company's reputation. The most reputable solutions providers understand this, which is why they go to such lengths to satisfy each customer, regardless of the volume of business they may be receiving from them.
Conversely, there are solutions providers who seek only the initial sale and don't put much effort into building a successful, long-term partnership with their customers. What is most unfortunate is that some solutions providers are at the mercy of their salespeople and if they're not careful, one rogue salesperson can do a lot of damage to a solid company's reputation.
For this reason, LP executives should also be asking questions of solutions providers regarding any training, professional development and certification programs they provide to their technicians and sales teams.
"For me, I find LinkedIn a valuable resource for investigating prospective solutions providers," George stated. "If the majority of their sales team has a track record of company-jumping, it raises some questions that need to be examined. It's not just the solutions providers' reputations that need to be researched. Individuals representing these organizations have reputations as well and they, too, need to be considered."
"I'm not upset that you lied to me. I'm upset that from now on, I can never believe you."
- Friedrich Nietzsche
The Stage is Set
After an LP executive completes the due diligence process and selects the best solutions provider that fits their needs and company culture, suddenly CCTV initiatives aren't so confusingly complex. The right solutions provider will take all that worry away, allowing the LP executive to focus on other important profit enhancement initiatives.
Regardless of which solutions provider an LP executive chooses for their CCTV system partnership, it is important that building a long-term relationship be a primary goal for all parties involved. The LP executive should always partner with a reputable firm who will be there when unexpected issues arise not only with equipment, but with implementation issues, IT issues, and even changes in future budgets.
When all parties involved seek first to build a trusted partnership, only then can all parties mutually succeed.
About Amphion
Amphion is a security integrator delivering unmatched service to national restaurant and retail customers across the country.  Specializing in loss prevention and security products and services, they are the one-stop-shop to safeguard your business assets.
Amphion manufactures and supplies the highest quality security products available on the market today! SOLINK ANALYTICS, CCTV, NVR's, DVR's, Custom Safes (Amsec, Fire King, Tidel, Gunnebo Cash Recycler Systems), Safe Locks (ESL, Securam, LPlocks), Access Control Systems (SFIC keying systems, InstaKey, Biometrics and Aiphone), Counterfeit Detectors, Exit Control door hardware (Detex, Alarm Lock, Code Locks), and much more.
With its nationally renowned technical support task force, Amphion provides certified technicians on-site within four hours, 7-days a week, 365 days a year. With a California-based, live 24-hour, technical support team and a comprehensive service management model, no one stands behind their products and services like Amphion.
To contact Amphion, call (800) 520-2677, or visit Amphion.biz.
Posted on